1/4
ED-01#Manager Desk/Boss Table/ Chairman Desk
Quick Details
Supply Ability:
15 piece per day
Quick Details
Feature

Adjustable (height)

General Use

Commercial Furniture

Design Style

Modern

Appearance

Modern

Brand Name

OEM

Function

Environmental,Practical,High Class,Convenient

Specific Use

Office Desks

Type

Office Furniture

Application

Home Office, Office Building, reception table

Material

High quality MDF

Payment

L/C T/T
Manager Desk/Boss Table/Chairman Desk
| | | | | |
| --- | --- | --- | --- | --- |
| NO. | ED-01# | | Size | 2400x1000/1900x760H |
| Name | Manager Desk/Boss Table/ Chairman Desk | | Material | Lacquer wood furniture |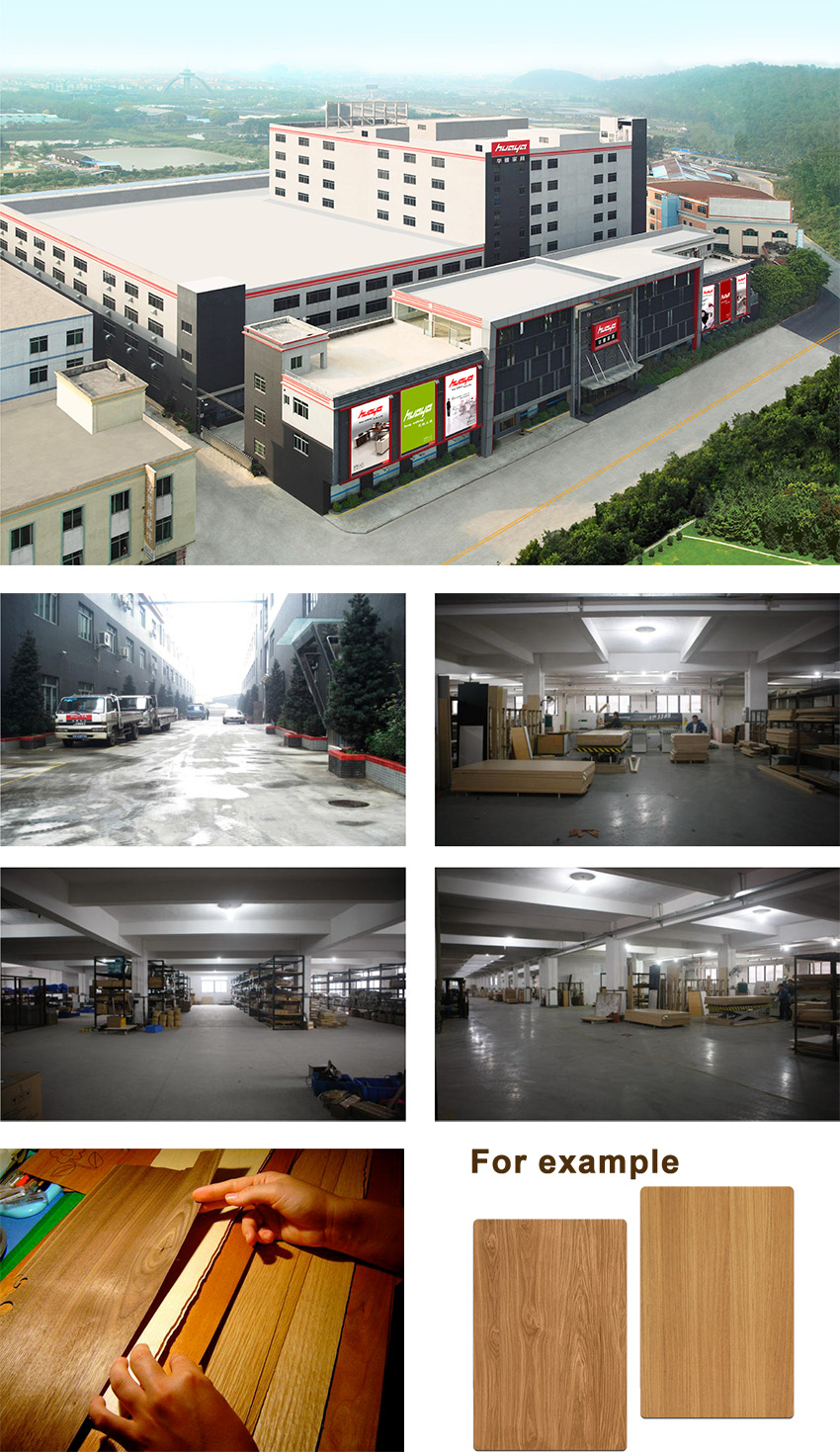 Company Profile
Guangdong Huaya Furniture Industrial Co., Ltd. is an innovative furniture manufacturer integrating professional R & D design, manufacturing, global sales and after-sales service. The company is located in Shunde, Guangdong, the capital of furniture in China. It is also one of the earliest companies in China to launch customized products. The company has a professional design team, so far, the characteristics of multi-cultural is particularly obvious, Huaya gives the cultural connotation and style of furniture products is one of the keys to our success.
Founded in 2000, Huaya has become the most famous and dynamic enterprise in China's furniture industry. It has established a well-known brand at home and abroad. The types of furniture cover many aspects: hotel furniture, office furniture, medical system furniture, banking system furniture, mobile communication system furniture, whole house customized furniture.
Huaya brand has been innovating since its establishment. In addition to focusing on brand product design, we also set the policy of professional customization. People oriented, according to customer requirements and subjective aspects of personal preferences, "different from person to person.". Personalized, professional and distinctive effect, the production of beautiful, fashionable and practical high-quality products, won the favor and support of customers.
With the trend of the times, Huaya furniture began to think about the concept of environmental protection and green. The company invests in the research of green design and the direction of environmental protection production, pays attention to green environmental protection, and combines furniture design with humanistic environment. Launch a series of environmental protection products. Professional certificate, first-class production line, environmental protection production mode, it is this green design theory that brings us to a new level
Huaya breaks the traditional way of furniture manufacturing. By means of informatization, we will realize the innovative business model of digital sales design, create a one-to-one online and offline all-round service, and design customization. Furniture designers will carry out matching design with indoor environment, considering the harmony of indoor function and environment, whether it is the color, size and quality of products, customers can consult in real time. Professional service personnel follow up before and after sales to provide the best service for customers.
FAQ
Q1.Are you manufacturer?
A:Yes we are furniture manufacturer in Guangdong ,China. Welcome to visit us.
Q2.How long will it take to execute my order?
A:This depends on the quantity and complexity of the order. Some items will always have the stock. Please let us know the quantityand codes of the items so that we can advise a production schedule.
Q3.How much will the shipping charges be?
A:This will depends on the CBM of your shipment and the method of shipping. When inquired about shipping charges, we hope that you let us know the detailed information such as the codes and quantity, your favorable method of shipping (by air or by sea) and your designated port or airport. We will be grateful if you can spare us some minutes to help us since it will enable us to evaluate the cost based on the information provided.
Q4.Can you give warranty of your products?
A:Yes, we extend a 100% satisfaction guarantee on all items. Please feel free to feedback immediately if you are not pleased with
the quantity or service.
Q5.Could I get a sample before mass order?
A:Sure! Sample chair is availble.
Q6.How to get the best solutions for my purchase?
A:Send us inquiry and send us direct message, we will reply you quickly.
The lifting table is also called the height-adjustable table, which is a desk that can be adjusted in height according to the needs of users. Its function is to prevent sedentary sitting and realize a healthy office mode of alternating standing and sitting.

Except for some specific activities, most well-known working methods are sitting indoors. Including but not limited to teachers, accountants, programmers, etc., these jobs often sit all morning, and the consequences of long-term sitting are very serious. For most people, sitting for a long time can cause slow gastrointestinal motility, indigestion, or obesity. If the sitting posture is not correct, it can also cause injuries to the back, waist, and legs. For female workers, long-term sitting can cause gynecological diseases.
Every pile is the misfortune brought about by long-term sitting, but in such an environment, work is an essential way of life for us.

If you have an adjustable height desk, you can sometimes take care of your health and work.

As mentioned above, the height-adjustable desk can realize the alternate working mode of standing and sitting. Generally speaking, sitting for 40 minutes and standing for 20 minutes are good working methods. This way of working allows you to prevent the above-mentioned diseases while working.
Types of height-adjustable desks


According to the location

Permanent

The independent height-adjustable desk can be placed on the ground like an ordinary desk, with a large bearing capacity and good stability. However, due to its larger size, it is more suitable for working at home.

Type

The height-adjustable tables placed on the table come in different sizes. When purchasing, you should determine the size according to the size of your desk. Compared with standing height-adjustable desks, it has weak bearing capacity and poor stability. However, it is small in size and suitable for office use.


According to the adjustment method

Manual type

Desks with manual height adjustment generally have adjustment buttons, which can be adjusted by pressing the button or lever by hand. The advantage is cheap, the disadvantage is laborious.

Electric

Electric lifting tables are generally equipped with motors, which are divided into single motors and double motors according to different prices. Stability and price: multiple motors> dual motors> single motors.
According to the number of table legs
Generally speaking, the number of table legs is related to the number of motors. In terms of stability, four legs>three legs>two legs>one leg.
What should I pay attention to when buying a height-adjustable desk?
Type
When used at home, the area of ​​the home is relatively large, and only more things are put on the table. Therefore, it is recommended to choose a home standing type, with a large bearing capacity and a spacious table top.

If it is used in an office, due to the limited space for personal use, it is recommended to choose a desk type. Managers do not need to worry about floor space, and the standing office experience is better.

Large OAD Bearing

If you like to put all kinds of things on the desk, it is recommended to choose a larger load-bearing one, which is more stable; if not, please choose a smaller one.

Material

The quality of the material determines whether the desk is stable. From the table top to the table legs, the choice of materials should not be sloppy.
If you are looking for professional customized height adjustable desk OEM, manufacturer, supplier, factory,
We hope to be your first choice, please feel free to contact us.